Septic Systems, Sewer Systems & Leach Beds (New or Repairs)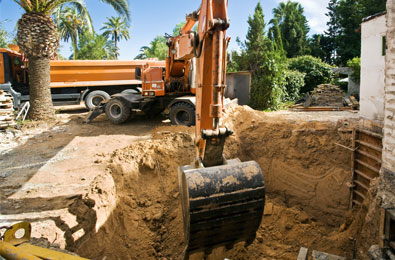 Septic and sewage problems are not only a nuisance, but they can create a hazardous waste situation for your residential, commercial or industrial property. Whether you need a new septic system or require repair or replacement of an old septic or sewage system, this is a job best left to the pros.
The first step for existing system issues is to contact your local health department to determine whether to repair or replace your system. Then give us a call. We'll visit your site, review and discuss the situation, and provide a free estimate.
For new systems, give us a call first. We'll conduct an accurate perk test right away. Once we know the drainage properties and layout of your land, we'll discuss the most appropriate type of septic or sewage system for you, and follow up with a free estimate.
Several components affect the cost of a septic system:
LANDSCAPE
Is your land flat or hilly? What is the water table level? What type of soil already exists?
SIZE
This is determined primarily by the number of system users and the size of the home or building.
TYPE OF TANK
Precast concrete is the most common type of septic tank, but some are made of steel, fiberglass or polyethylene.
DRAIN GRAVEL
A gravel trench is typically used for the soil absorption field. Cost is based on the amount of drain gravel required.
DESIGN
A conventional gravity septic tank/absorption field system buried underground may be the most economical option, but an alternative design may be necessary in unique situations.
PIPES
Pipes transfer waste from the building to the tank, and from the tank to the drain field. Usually made of PVC, the selected material, diameter, and length required affect cost.

RISERS
Septic tank risers allow above-ground access to the tank and can considerably reduce maintenance cost over the system's lifetime. Typically made from polyethylene, PVC or concrete, the type and size affect cost for those who opt for them. While concrete risers are the most cost effective for the tank itself, they are the heaviest and can easily become more expensive in the long run due to additional installation charges as a result of their weight.
We'll be glad to provide guidance for your septic or sewage system, prepare a free quote, and then get the job done right.
CALL US TODAY!